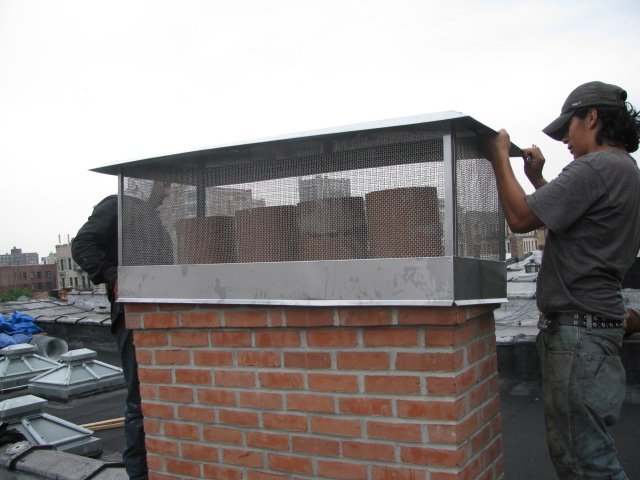 With all due respect and care, we, the "Chimney Repair Contractor in NYC", are highly concerned about your Chimney's health. We know how much stress your mind is getting after seeing the issues. Put all your worries aside and let us take care of them. 
How?  
After grinding Dedication and Accuracy, we can now say we offer the best chimney repair services in the city. The most promising fact about us is we provide trust more than service, we are humble, and we prefer accuracy over quantity.
When do you need a chimney repair contractor?
There are a bunch of issues that might have been happening to your Chimney. But no need to worry, you just need to be quick and fair when doing chimney inspections. Let's dig into each case and understand what you saw. 
Large Cracks and Missing Bricks – 
Well, reasons can be anything such as fluctuating temperatures, tree falling, poor installation, and some natural phenomena. Though we are not talking about the smaller ones, they can be sealed with the help of temporary brick and cement patches. But, the larger ones are a major concern, you should choose how could you fix them. Rather, call up any Chimney Repair Company in NYC. 
We wish you'd never have this scary experience but for the sake of protection, protect your chimney before it goes on fire. The main reason is creosote. The highly flammable and dark in nature, creosote coats the chimney walls and if the temperature of the chimney gets high enough, it starts to burn and catches fire. It is preventable if you ask a professional for chimney cleaning.  
Rain, snow, and moist dust can cause significant damage to the chimney. If there is water in the base of the fireplace, then you must seek a professional for gas fireplace repair. The excess water leaking can lead to white staining, a rusted damper, or water stains on the wall of the chimney. 
Excess Creosote Buildup – 
Coming back to the main burden, the substance is a byproduct that is produced when we burn wood, coal, oil, etc, with the help of the chimney. Creosote can become a culprit of hazardous consequences due to its high combustibility. There is a lot to know about this thing. It is quite difficult to clean those sticky pieces of substance. It is wiser to seek a chimney repair contractor in NYC.
Some Common Issues That Can Be Fixed Quickly –
You might have seen some pieces of tile or ceramic in the fireplace, this is a common sign of a shaling flue liner. Before the cracks can become large and can cause further damage, dial any Chimney Repair Company in NYC and seek professional work. 
A crown plays a very important role in the chimney. It protects the roof from catching fire and also keeps rain, and pests out of the flue. Regular penetration of water or snow makes the crown less durable. Cracks and weakened mortar joints can shake the integrity of the structure. These issues can be quickly done by a professional who works on damaged chimney repair in NY.
Mortar Joints Replacement – 
The main purpose of mortar is to act as a tuckpoint between the bricks. It typically comes in a large bag, mixed with water as per the requirement. It wears down over time so it can be replaced by any professional. 
6 Easy Ways You Can Apply to Protect Your Chimney – 
Schedule an Annual Chimney Inspection –
Your chimney helps you with cleaning the house. While you are busy working on something important, let someone who can maintain your chimney once in a while. What you can do is follow up an easy call to any chimney repair company in NYC. 
The flue can become a home for birds, and leaves can also contribute to the same. It can protect chimney fire from touching loose embers. Caps also prevent acidic rain to enter inside and protect it to corrode the chimney from the inside out. Find a professional near you who can install a cap. It will not require putting in a lot of money. 
Acquire Clean Burning Techniques –
Chimneys which left overnight with low temperatures, and slow-burning fires, must be cleaned the other day. The produced unburned combustible material can stick to the internal part of the chimney. Before the risk of fire gets increased, apply simple cleaning methods. 
Always extinguish the fire by spreading out the wood and embers with the help of a firepoker.

Douse some cooled woods with enough baking soda to cover them. 

After cooling, shovel the ashes into a metal container and store outside or discard them. 

Our satisfied customers recommend our team and recognized our efforts.
Why Choose Us?
With enough knowledge and experience, we can deliver the best and quick resolutions to your chimney problems. Shake our hands to start the process immediately with enough trust and liability. 
We are among highly

trusted chimney contractors in New York

.  

We have well-experienced and certified human resources.

We provide large-scale repair and replacements. 

Can tackle all emergency cases and look after them immediately. 
The owner's experience is also considerable. As our testimonials are getting wider and more responsive, we are also working to educate ourselves enough to handle every circumstance and fulfill every criterion.