Flat Roof Repair Services In Manhattan, New York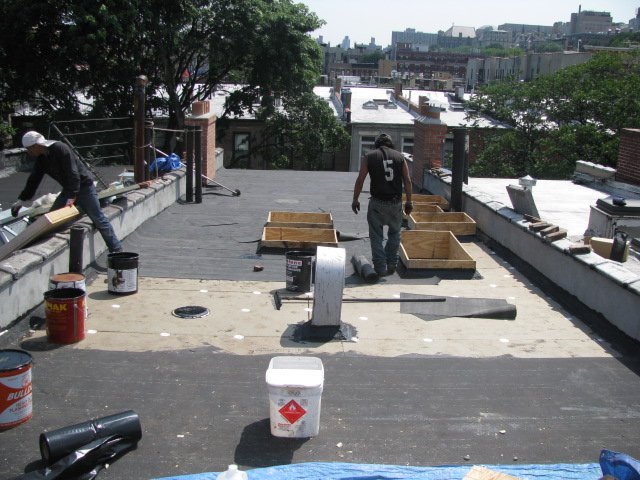 Flat roofs are generally easier to build than other types of roof designs. But flat roofs are more vulnerable to damage because of their build layout. Thereafter, a regular roof inspection is mandatory to keep a close watch on its condition. The maintenance of a flat roof is essential to preserve its functionality and longevity. Excel Roof Contractor NY specializes in flat roof repair Manhattan from minor to major fixes. 
We offer comprehensive solutions for the maintenance, repair, and replacement of flat roofs for both residential and commercial projects. Ensuring the use of superior grade materials for better endurance, stability, and durability, Excel Roof Contractor is recognized as a reliable flat roof repair contractor Manhattan. 
When do You Need Flat Roof Repair?  
The significance of a well-built roof for any property is not unknown. It provides strength and stability to a building that is crucial for the safety of the occupants. Any sign of damage should never be overlooked as it can lead to severe hazards. Our team of proficient experts at Excel Roof Contractor NY provides thorough roof inspection on your property and proffers the best solutions for every kind of fix. 
But, how do you know when to contact a professional?
Here is a guide that will help you to understand the condition of your roof.
Your roof will show bubbles and blisters when there is an adhesion failure. These bubbles are normally filled with air or water. Such a condition arises due to inadequate ventilation and poor insulation. If left unattended, the bubbles can pop creating holes on the surface leading to interior damage. Consider contacting an expert

flat roofing contractor Manhattan

immediately.  

Cracks and splits are one of the most common problems that occur mainly due to exposure to extreme weather conditions. They result in uneven surfaces hazardous to walk. The timely

flat roof repair Manhattan

can prevent replacement.  

A major disadvantage of flat roofs is that they hold moisture for a long. So, a flat roof often faces issues like water seeping into the building's interior. Also, expect to have molds if the problem is left untreated. 

Do you have water pooling on your roof? It is pretty prevalent in flat roofs as they often shift from their original position creating holes and dips- a good site for stagnant water. You may require

flat roof replacement Manhattan

if the problem gets too serious.

The

flat roof repair Manhattan

is necessary if you have a peeling topcoat because you may experience poor insulation and your roof getting more prone to weather damage.
These are the most prevailing signs of flat roof damage demanding prompt actions. 
Why should You Hire Roof Repair NY?
The roof repairing job is not for the unqualified ones. It requires extensive knowledge regarding the complications and the deliberations of the task. Excel Roof Contractor is a team of highly trained and licensed professionals possessing precise comprehension of the various tools and techniques executed in the repair and replacement of a flat roof. 
Our passion to deliver unprecedented service quality to all our clients has earned us enormous fame and popularity as one of the most trusted contractors for flat roof installation Manhattan. With the assistance of our eminent staff and the use of top-notch materials, we ensure your property receives optimal sustenance and refinement.
The complexities in a project do not affect the standard of our services. Through exhaustive roof inspection, we get to the roots of the problems and fix them meticulously. Excel Roof Contractor is your ultimate destination for all kinds of roofing services, promising you the best quotation while saving your time and money.