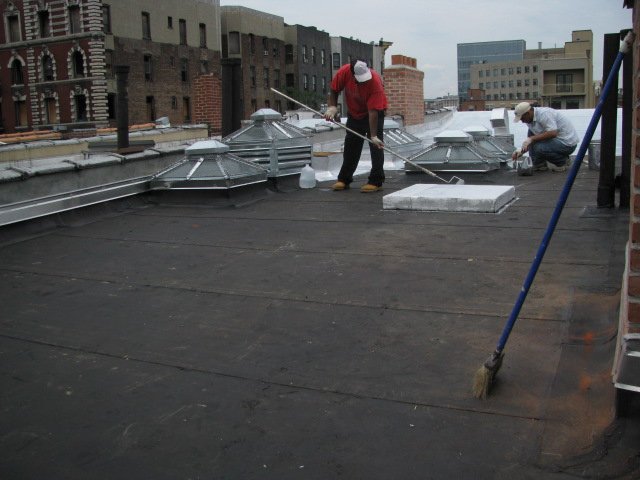 Roof Contractor NY is a consistently growing firm that cares about the safety of your house. We understand the needs and certain circumstances that are unfortunate with respect to your situation. The professionals strive to put effort and achieve the given project on time. Roof Contractor NY has been all set to provide flat roof installation. It's not limited to this; our work services include all possible roof repair and replacement with keeping low cost and exceptional quality in mind.  
How a Roof Does Its Job
A roof, no matter how it is designed, plays an important role to support a strong baseline of living. It also shows how the structure of a house has been properly established with fine polishing. So why not have a proper architecture which offers superior isolation and safety? 
4 Reasons Why Roofing is Important
While the roof gets installed, a layer of insulation is also befitted in it. This serves as a great barrier between the room temperature and outside one. If talking about thermal insulation, it works to prevent all 3-types of heat transfer mechanisms, radiation, and conduction. The purpose is to slow down the process of heat radiating into the living spaces. 
As you know there are some natural phenomena that could damage properties and interiors in all aspects. As soon as you appoint a good contractor which provides NYC Roofing Services, you can let your family safe and secure. 
Provides Structural Support
A roof acts as a backbone of a house. It provides structural support and prevents imbalance for a lifetime. Along with a home, we also need electricity, interior design, lighting, and much more. A roof can allow these things to become true by providing appropriate help for wiring in a significant way. Take care of the roof's life and hire a contractor for flat roof replacement in NYC.
Last but not the least, everyone wants their house to look good from the outside. Having proper architecture which ensures the beauty, always be a great idea to have. No matter how small or big the house is, the people belonging to that, should always have a protective roof on their heads. If you can pick anything which could mis value your block, pick the phone and make a call to any flat roof repair in NYC.
What Are the Causes of Roof Repair and Replacement?
With all the love, regular maintenance is also required in a while to ensure the consistency of benefits and durability of the roof. There are some possibilities of unfortunate events that could put houses and people's lives in danger. Here's the list of those. It's always better to look for a flat roofing replacement. 
Aging Shingles –

This is the situation when the Shingles are gets old, rusted, weak, and brittle. It could be wiser to seek a

roofing replacement contractor in NYC

.
Cold Temperatures –

Water and cold temperatures are the leading cause of roof damage as the ceiling gets wet and weakens the material from inside. 
Winds and Storms –

All kinds of natural occurrences such as thunderstorm, hurricanes, or high winds, promotes damage if not taken care of. In some cases, you have to call for

flat roof replacement in NYC

or anywhere. 

Improper Installation –

There is a higher percentage chance of a mess while installing a roof. Improper installation can allow old shingles to break and result in leakage. In this case, it is better to ring a phone call to any

flat roof repair in NYC

. 
Having a roof build-up of quality and essential materials is very tempting. But a regular check-up has added an important aspect. Luckily, nothing to worry about if you saw anything happening with your roof. We are just one call away to reach your doorstep for any from Roof Repair to Roof Leak Replacement.