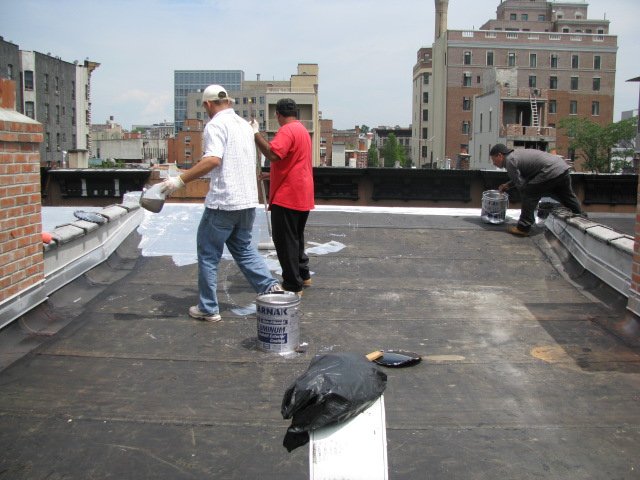 You will eventually want the services of a professional for your roof inspection NY requirements. When this occurs, you can count the name Roof Contractor NY. We have the knowledge and abilities necessary to complete this task and ensure that nothing is overlooked in flat roof repair Westchester county. Your house or business building's roof is the most crucial component and must be inspected annually at a minimum. This small amount of maintenance may make an enormous impact on the quality and function of your roof. We can identify any possible red flags or problems that need to be resolved to extend the life of your roof.
Our flat roofing experts have the skills and specialized procedures that will disclose crucial information about your roof and allow us to assess if further action is required. Knowing that our flat roof replacement Westchester contractors have provided an honest evaluation, you will feel better. Roofs play an important role in protecting and protecting other building components from harm.
Some home landlords skip roof maintenance, exposing their properties to significant preventable damage despite its significance. Regular roof inspections and old roof replacement and installation are the most effective method to extend the life of your roof and guarantee that it is in good shape.
Here are some advantages of hiring professional flat roofing experts
Helps Identify Roof Damage
Damage to a home's roof enables moisture to accumulate, causing wallpaper, paint, wall lining, and drapes to deteriorate. The wetness also promotes the growth of mold, dust mites, and fungus, exposing residents to various health risks.
A professional roof inspector may evaluate your roof to discover damaged areas and then provide you with a report of their findings. In addition, they will offer preventative maintenance measures such as tree cutting and gutter cleaning to avoid future roof damage.
Increases Return on Investment
To save money, homeowners frequently forego routine roof inspections and repairs. Some may choose to check and repair the damage without the assistance of professionals. This strategy may save money in the short term, but it will cost more to fix secondary damage in the long run. On the other hand, professional roof inspection services will assist you in handling minor roof damage. Moreover, proper care will lengthen a roof's lifespan and avoid early replacement.
Simplifies the Insurance Claim Filing Process
Even the most resilient roofing material can be damaged by severe weather conditions like thunderstorms and strong winds. In certain situations, the repercussions of the damage may take longer to manifest, making it difficult to establish an insurance claim. After severe weather, having an expert evaluate your roof will help you discover problems and obtain reimbursement.
The inspector will also compose a comprehensive report describing the nature and extent of the damage and the projected cost of repairs. This statement will allow a homeowner to provide the necessary documentation to support an insurance claim.
Relaxation for a Homeowner
A professional roof inspection gives confidence and peace of mind by revealing the condition of one's roofing system. If your roof requires repair, the professional will recommend the optimal time to do the work. With this information, it will be easy to plan and budget for repairs within the allotted timeframe.
Roof inspections are hazardous for individuals with inadequate understanding and expertise in roofing systems. For instance, falling and suffering a life-threatening fall might result from treading on soft patches and loose shingles.
On the other hand, flat roof inspections and maintenance trained roofers would use their experience to recognize a dangerous location and prevent mishaps. They will also use safety equipment to avoid harming the roofing material during the examination.
Guides you about  Roof Replacement materials
Most roofing materials have an expected lifespan range that enables homeowners to determine when flat roof replacement Westchester is necessary. Nevertheless, a roofing system's durability can be affected by several variables, including accelerated deterioration. Inadequate ventilation, solar heat, and severe wind are examples.
A professional roof inspection may assist you in assessing roof damage caused by environmental causes and determining the remaining lifespan of your roof.
Guarantees Proper Drainage
Failure to remove collected trash and dust can lead to clogged gutters and drainage issues in a property. In addition, stagnant water on the roof can cause the roofing material to deteriorate and the roof leak replacement. Professional Westchester roofers will assist you in identifying drainage issues and removing unwanted material.
The majority of roofing warranties mandate an annual roof inspection. Hiring an expert for this task will help you avoid problems that result in warranty voiding. These include incorrect roof care and repair, bad installation, and unlawful alteration.
At Roof Contractor NY, we know the importance of your roof to your safety and comfort, which is why we prioritize its health. In addition to our skilled roof inspection services, we also provide roof repair, replacement, insulation, and maintenance. You will definitely get reliable and effective flat roof repair Westchester county services here.