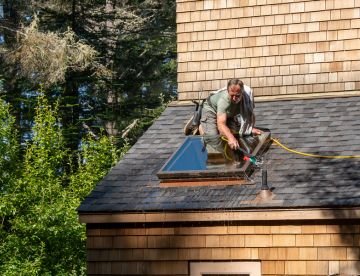 Skylights are a great addition to any building. This provides natural light and keeps ventilation in your house. Skylight installation also adds an aesthetic appeal to your building. And like other components of your building, skylights might also develop problems over time and will require repair. It is important to pay attention to these issues promptly to keep the functionality of the skylight proper. This will also protect your building from any potential damage.
Read More:– Everything You Need to Know about Skylight Installation
Why Does the Timely Repair of Skylight is Crucial?
In Bronx & Queens, timely repair of Skylight is crucial mainly due to the bad weather conditions. Here are some reasons why is it required: –
To Prevent Water Damage– When your skylight is not functioning properly then it might allow the water to seep into your building. And it is quite obvious that it will cause significant damage to your ceilings, walls, and floors. Water damage may also lead to mold and mildew growth, which can be harmful to your health. To avoid expensive remediation services timely Roof skylight repair Bronx is required. This will prevent water from seeping into your building and protect your building from potential damage.
To Avoid Energy Loss– A damaged skylight may cause loss of energy due to which your heating and cooling system will work harder and at last your energy bills will be increased. If a skylight is not properly sealed, then it might allow air to escape or enter your building. This will also make it difficult to maintain a consistent temperature in your building. Therefore, timely Roof skylight repair Queens will avoid causing any energy loss.
To Enhance Building Aesthetics– If your skylight is not functioning well then it will affect the overall beauty of your building. No doubt it adds an aesthetic appeal to your house but its maintenance adds value to your building. Make sure your timely repair your skylight to restore its functioning and enhance its values.
To Increase Safety of Building – Having a damaged skylight can cause a safety hazard to your house. You must check whether the glass is cracked or damaged to avoid falling and causing injury to your family members. Also, if it is not properly secured then it could be a potential entry point for intruders. So, make sure the timely repair of the skylight is done for the safety and security of your building.
To Maintain Longevity– Maintaining the skylight will lead to the high life of your skylight. Its regular inspections and repairs may not only extend its lifespan of it but will avoid costly replacements.
In conclusion, timely Roof skylight repair is essential for the protection and longevity of your building in the Bronx and Queens. If you have any issues or doubts then feel free to contact us at Roof Contractor our services are genuine and affordable. We are 24 hr available to assist you on our line mentioned on the website.